On The Cover: MusicRow's 2023 Publisher Issue Features Cody Johnson On Cover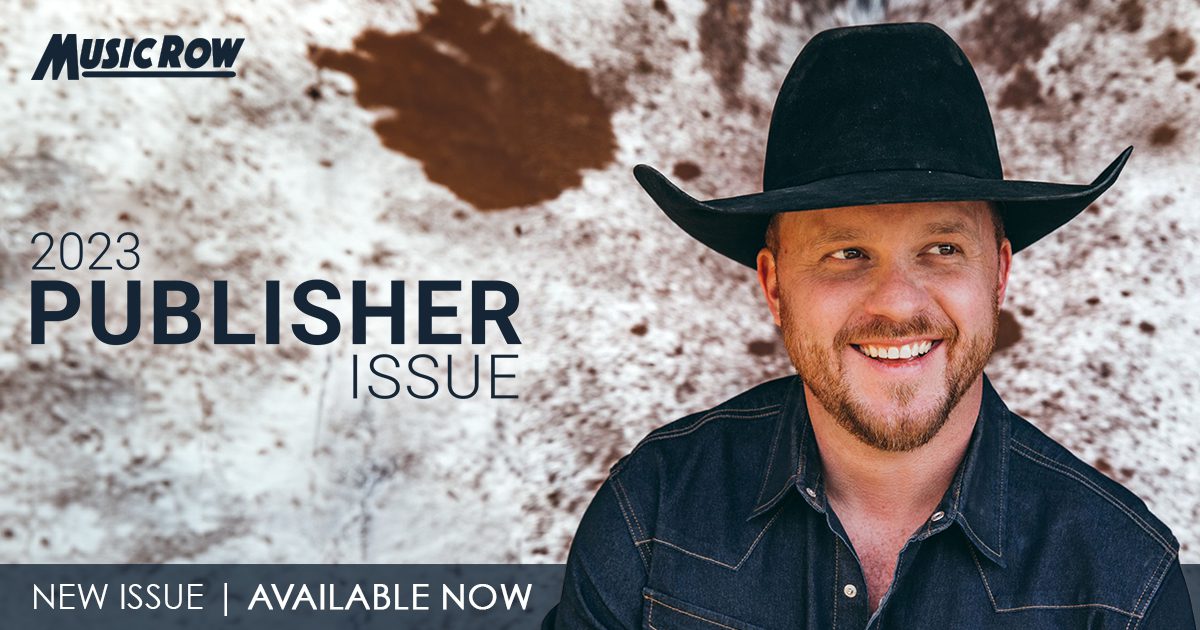 MusicRow Magazine has released its 2023 Publisher Issue print edition, with COJO Music / Warner Music Nashville artist Cody Johnson gracing its cover.
This highly-anticipated annual resource includes the 2023 Publisher Directory, listing Nashville's top publishing companies as well as organizations available for songwriters.
"The annual Publisher Issue, curated by MusicRow, accentuates the publishers and lyricists who form the bedrock of our industry. It unfolds a comprehensive Publisher Directory, profiles spotlighted songwriters, and features exclusive articles written by our stellar MusicRow team," shares Sherod Robertson, Owner/Publisher of MusicRow Magazine.
Back again in the 2023 Publisher Issue is the State of the Union roundtable, this time featuring UMPG's Missy Roberts, Warner Chappell's BJ Hill, Sony Music Publishing's Kenley Flynn, Curb | Word Entertainment's Colt Murski and 50 Egg Music's Tali Canterbury.
Elsewhere, Loeb & Loeb's Derek C. Crownover tells MusicRow about trending music industry deals, and ASCAP's Kele Currier is the subject of the popular My Music Row Story column.
For the 2023 Publisher Issue, Concord's Brad Kennard speaks to MusicRow about the company's resurgence in Nashville, and Gilles Godard sheds light on Anthem Music Publishing Nashville's bright future. Additionally, this issue offers a look at some of the publishing news hits of this year.
MusicRow's 2023 Publisher Issue also highlights the work and careers of some of Nashville's most in-demand songwriters, including Warner Chappell/Home Team Music Publishing's Parker Welling, Sony Music Publishing's Madeline Edwards, Big Machine Music's Matt Dragstrem, Liz Rose Music/Warner Chappell's Cameron Bedell, UMPG/Back Blocks Music's Lily Rose and newly-inducted Nashville Songwriters Hall of Fame member Rafe Van Hoy.
Single copies of MusicRow's 2023 Publisher Issue are available for purchase at musicrow.com for $45, and are included with yearly MusicRow subscriptions.
Nashville Songwriters Hall Of Fame Inducts Six During Special Night Of Music
Six iconic tunesmiths became the newest members of the Nashville Songwriters Hall of Fame last week (Oct. 11) in a grand ballroom at the Music City Center.
The evening was full of special musical tributes, moving speeches and Music Row camaraderie. It was the 53rd Anniversary Gala and the at-capacity crowd donned their best suits, gowns and cowboy hats for the occasion.
Casey Beathard and David Lee Murphy went into the Hall in the Contemporary Songwriter category, while Rafe Van Hoy joined in the Veteran Songwriter category. Keith Urban went into the Hall in the Contemporary Songwriter/Artist category and Kix Brooks entered in the Veteran Songwriter/Artist category.
The late John Jarrard was inducted into the Hall's Legacy category, designed specifically to honor NaSHOF-worthy candidates who are deceased. Bobby Bare was also honored with the Frances Williams Preston Mentor Award, a distinction for those who serve as a champion of and cheerleader for songwriters.
"We are here tonight to honor the songwriters who have reached the pinnacle of success in their respective careers," said Rich Hallworth, NaSHOF Board Chair. "We celebrate the creativity and talent that go into writing a song of merit, cultural value and long-lasting impact, and we do that tonight by welcoming these newest members into the Nashville Songwriters Hall of Fame."
Click here to read MusicRow's full recap.
Warner Chappell Music Signs Jenee Fleenor
Warner Chappell Music has signed a global publishing deal with record-breaking multi-instrumentalist and singer-songwriter Jenee Fleenor.
As the first-ever woman to be nominated and win Musician of the Year at the 2019 CMA Awards, Fleenor currently reigns as the category's four-time consecutive winner and nabbed her fifth nomination this year. As an in-demand fiddler who has played on countless country hits, she has been honored with two ACM Specialty Instruments Player of the Year awards (2020 and 2023), three MusicRow Top 10 Album All-Star Musician Awards (2019, 2022 and 2023) and the CMA Touring Musician of the Year (2015).
Fleenor began her musical journey as a toddler growing up in Arkansas, taking Suzuki classical violin lessons and learning to sing. Throughout her youth, her dream of being a session fiddle player grew. After graduating high school in 2001, she moved to Nashville.
In addition to her work in Music City, Fleenor also performed in the house band for NBC's The Voice for eight years. As a songwriter, she has collaborated with the likes of Reba McEntire and Gretchen Wilson, and written tunes such as Blake Shelton's "Just Getting Started" and The Grascals and Dolly Parton's "I Am Strong," among others.
Fleenor made her debut as an artist in 2019 at the Grand Ole Opry following the release of her single "Fiddle & Steel." She recently formed a new acoustic supergroup, Wood Box Heroes, who made their Opry debut a couple of months ago and will be releasing their all-original debut album early next year.
"Whether it be for her musicianship, artistry, or songwriting, Jenee Fleenor is highly respected within the Nashville community and beyond. We could not be prouder to walk alongside her and support her songs," shares Ben Vaughn, President & CEO of Warner Chappell Music Nashville, of the deal.
"I am so excited to partner with Warner Chappell! Most people have probably only known me as a session fiddle player and don't realize that I've been a songwriter for a long time as well," shares Fleenor. "It feels so great to have such an amazing team of people supporting my songs, and I can't wait to see what the future holds. Big thanks to Ben Vaughn and Spencer Nohe!"
Category: Music News