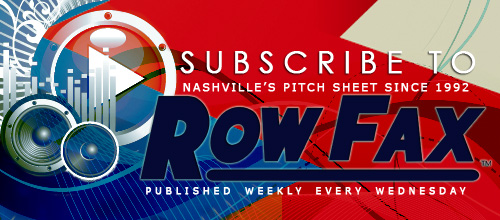 SUBSCRIBE TO ROWFAX FOR $179!
RowFax provides up to date information about which artists are working on recording projects and currently searching for new material. It is for professional use by publishers, songwriters, producers, artists, A&R executives and others interested in the process of finding and recording songs. The publication's role is solely to provide song marketplace information—it never gets involved in the process of pitching, reviewing, listening to or owning songs. Each entry contains artist, label, producer, recording schedule, project description and contact details when available.
What you will receive:
Our sister publication MusicRow offers print magazine contact directories that may be of interest to you. For $310 you will receive weekly listings from RowFax in addition to MusicRow's 6 print issues mailed to you bi-monthly and daily emails with the latest industry news. For more information about MusicRow's print issues, click here.
RowFax transmissions, e-mail and online passwords, are intended for the strict sole use of actively subscribed members. Sharing such online property is expressly forbidden. RowFax reserves the right to cancel subscribed member accounts found to be in violation of this policy, without refund.