Billy F. Gibbons To Receive BMI's Troubadour Award
Billy F. Gibbons of ZZ Top will be presented with BMI's coveted Troubadour Award during a private reception at BMI's Nashville office on Monday, Sept. 18.
The prestigious accolade recognizes Gibbons as a songwriter who has made a profound impact on the creative community and set the pace for generations to follow. As the chief songwriter for ZZ Top, Gibbons' credits include iconic hits such as "Sharp Dressed Man," "Legs," "Cheap Sunglasses" and "La Grange," the lead single from ZZ Top's Tres Hombres album that catapulted the trio into mainstream success 50 years ago.
"With a career spanning several decades, Billy has penned an array of timeless hits that have left an indelible mark on the music industry," says BMI's VP of Creative Nashville Clay Bradley. "His ability to craft lyrics that resonate with audiences across generations is a testament to his songwriting prowess and he is the epitome of what the BMI Troubadour Award represents."
The night will include unforgettable tribute performances and commemorative speeches by special guests during a cocktail reception and dinner. Gibbons joins the ranks of past Troubadour Award recipients including John Hiatt, John Prine, Robert Earl Keen and Lucinda Williams. Falling on the eve of AmericanaFest, the night serves as a homecoming for BMI's Americana family of artists.
Warner Chappell Music & The Warren Brothers Team Up To Sign Jet Harvey
Warner Chappell Music and The Warren Brothers' Brad and Brett Warren have teamed up to sign Jet Harvey to a worldwide publishing agreement.
The Memphis, Tennessee native co-wrote Bailey Zimmerman's hit "Rock and A Hard Place," which topped Billboard's Country Airplay chart for six weeks. The smash single was also among the top 10 of Billboard's all-genre Hot 100 chart, and currently has over 750 million streams across platforms.
The songwriter, producer and multi-instrumentalist has been performing since he was 19 years old. Five years ago, Harvey started playing at festivals and in bars with his band, Jet Black and the Cadillacs, while simultaneously running his own insurance agency out of Franklin, Tennessee, where he lives with his wife and kids. He is nominated for MusicRow's Breakthrough Songwriter of the Year at the 2023 MusicRow Awards.
After landing his first cut with Zimmerman, Harvey decided to pivot his career and write for others, and has been sharpening his skills as a songwriter ever since.
"It just dawned on me that songwriting was a 'standalone' opportunity. Songwriting was always a 'part' of what I did as a performer. Not 'THE' thing I do," he shares.
Applications Now Open: MusicRow's 2023 Publisher Company Directory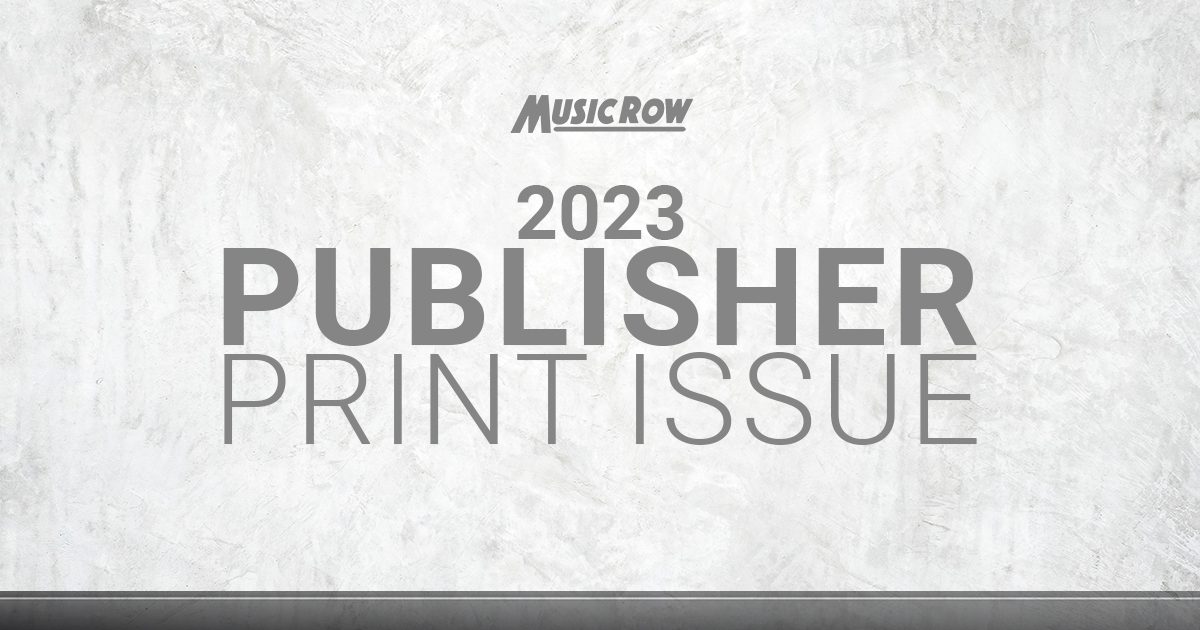 New applicants for inclusion in the Publisher company directory for the upcoming MusicRow Publisher Issue print magazine are now being accepted through Aug. 25. Previously included companies will also be solicited separately.
Along with the directory with contact information for Nashville's publishing community, the issue also features exclusive editorial content focused on this essential segment of our business.
To submit your company for consideration, complete and submit this form.
For questions, please contact LB Cantrell at lbcantrell@musicrow.com.
To reserve ad space in the 2023 Publisher issue, contact srobertson@musicrow.com. Rate card information is available here.
Become a subscribed member of MusicRow here to make sure you don't miss the annual Publisher Issue.
Category: Music News