Laura Veltz Launches Songwriter Soup Podcast With American Songwriter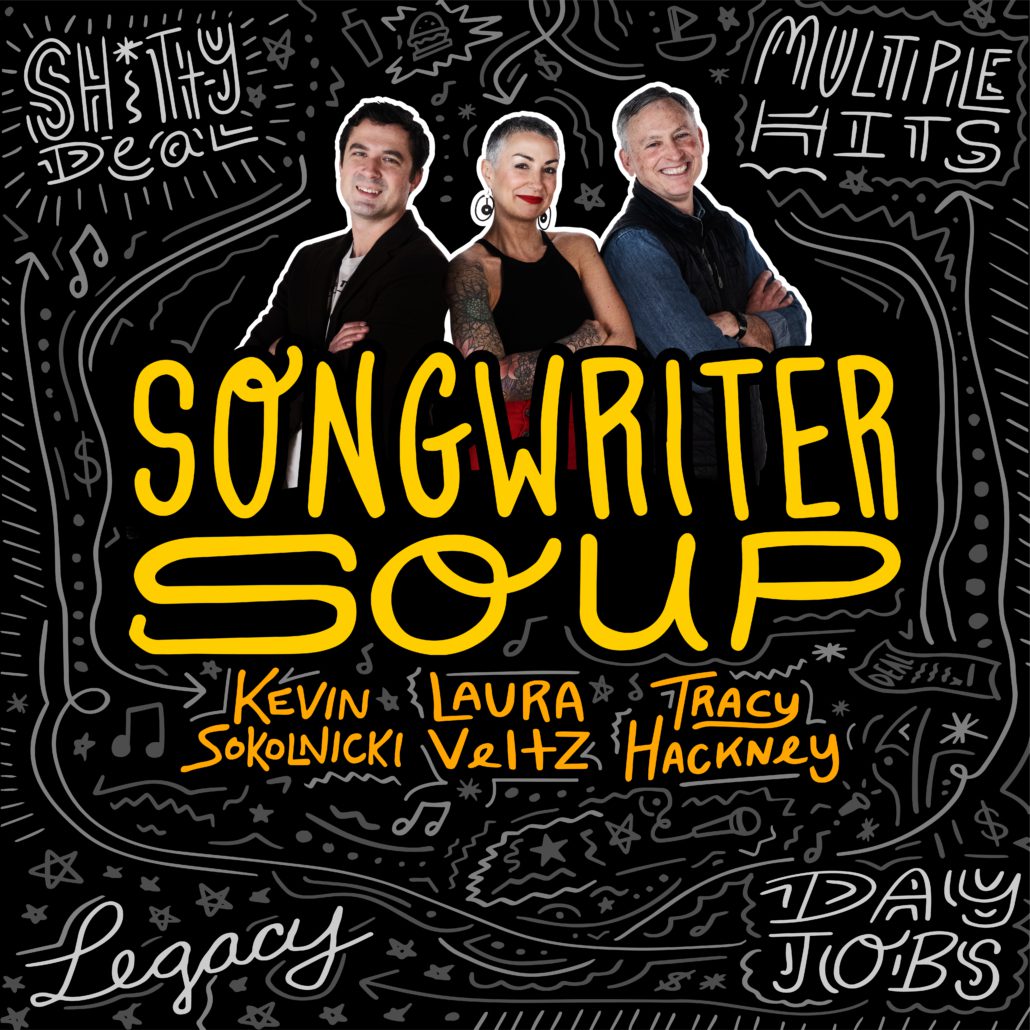 Grammy-nominated songwriter Laura Veltz has launched a new podcast Songwriter Soup in partnership with American Songwriter, consisting of new hour-long episodes every Monday.
Joined by co-hosts Tracy Hackney and Kevin Sokolnicki, the podcast offers insights into sparing your sanity and saving money in the songwriting business. The first season will feature acclaimed songwriters Luke Dick, Luke Laird, Lori McKenna, Jimmy Robbins and Andy Albert.
"We all have thousands, if not millions, of songs living in our brains – they become familiar to sing and impactful enough to connect you back to key moments within your life's story and yet, most people don't know of the many great creators and poets behind their favorite lyrics," shares Veltz.
Named Billboard's 2022 Songwriter of the Year, Veltz has worked with some of music's biggest stars including Demi Lovato, Maren Morris, Idina Menzel and more. In 2020, she took home the ACM and CMA Awards for Song of the Year, and BMI's Award for Pop Song of the Year in 2021. Veltz became the first woman to claim the No. 1 spot on Billboard's Top Country Songwriters chart for "The Bones."
As an audio engineer, Sokolnicki has worked with artists such as Randy Travis, Kenny Rogers and Lynda Carter, among others, while Hackney serves as a financial advisor for artists, songwriters, producers and music business executives. Together, they bring more than three decades of experience to the podcast.
Reservoir Signs Grammy-Nominated Writer-Producer Christian Stalnecker [Exclusive]
Reservoir has announced the signing of with Grammy-nominated writer-producer Christian Stalnecker. The publishing deal includes Stalnecker's future works, as well as several previous releases including the No. 1 hits "Thank God" by Kane Brown with Katelyn Brown, "Different Man" by Kane with Blake Shelton and "Rescue Me" by Chris Young, among others.
With Kane and Katelyn Brown's "Thank God," Stalnecker earned his first No. 1 as a songwriter. The tune held the top spot on Country Airplay for two weeks and also reached No. 13 on the Hot 100, No. 21 on Mediabase's Top 40 radio chart and No. 26 on American Top 40 Hot AC chart, demonstrating its success across genres.
Stalnecker began his career in a Christian revival family band before beginning to pursue pop music in high school. He landed support slots on tours with Destiny's Child, Christina Aguilera, the Backstreet Boys and more. After relocating to Los Angeles, he wrote for artists such as El DeBarge and Dreezy. Since moving to Nashville, Stalnecker has collaborated with artists such as T-Pain, Rick Ross, Wale, Kane Brown, Chris Young and many more. Stalnecker was nominated for a Grammy for Best R&B Album for Second Chance by El DeBarge.
Of the deal, Stalnecker says, "As a southern boy from Florida, who grew up on a bus in Christian music, who wound up being a pop artist, who wrote R&B and hip-hop songs, who ended up with country hits—I am thrilled to work with the Reservoir team to continue writing across genres from Nashville." He adds, "I can't think of a better crew to do it with. There's a bright future ahead for all of us, and excited to be on this journey with this team."
Reservoir EVP of Creative, John Ozier, shares, "Christian has an innate ability to write melodies that transcend genres. His recent Kane and Katelyn Brown hit is exactly the kind of song Christian is so adept at creating—music that has massive crossover appeal. We are so excited to be supporting him as he continues to write hits in multiple formats."
Universal Music Publishing Nashville Signs Lydia Sutherland
Universal Music Publishing Nashville has signed an exclusive, global publishing agreement with Nashville-based artist Lydia Sutherland.
The Quebec native first emerged as a much sought-after songwriter in the Canadian music space, which led to her signing a recording contract with Universal Music Canada. She was recently named a semi-finalist of SiriusXM's Top of the Country competition.
"Lydia walked into my office one day last year and absolutely blew my mind with her lyrics and ideas in every song she played me," shares Cyndi Forman, Senior Vice President A&R, UMPG Nashville. "I couldn't get the songs out of my head and knew I had to sign her. I am thrilled she's joining the team!"
"From the first day I walked into UMPG and sat down with Cyndi I felt like I first and foremost met a friend and supporter for life but also found the perfect home for me and my songs," adds Sutherland. "It's still so hard to comprehend how this all happened and how I ended up with this dream team. All I can say is that I am incredibly grateful and beyond excited for this new journey to start!"
Category: Music News