MusicRow Releases 2023 Country Radio & Streaming Issue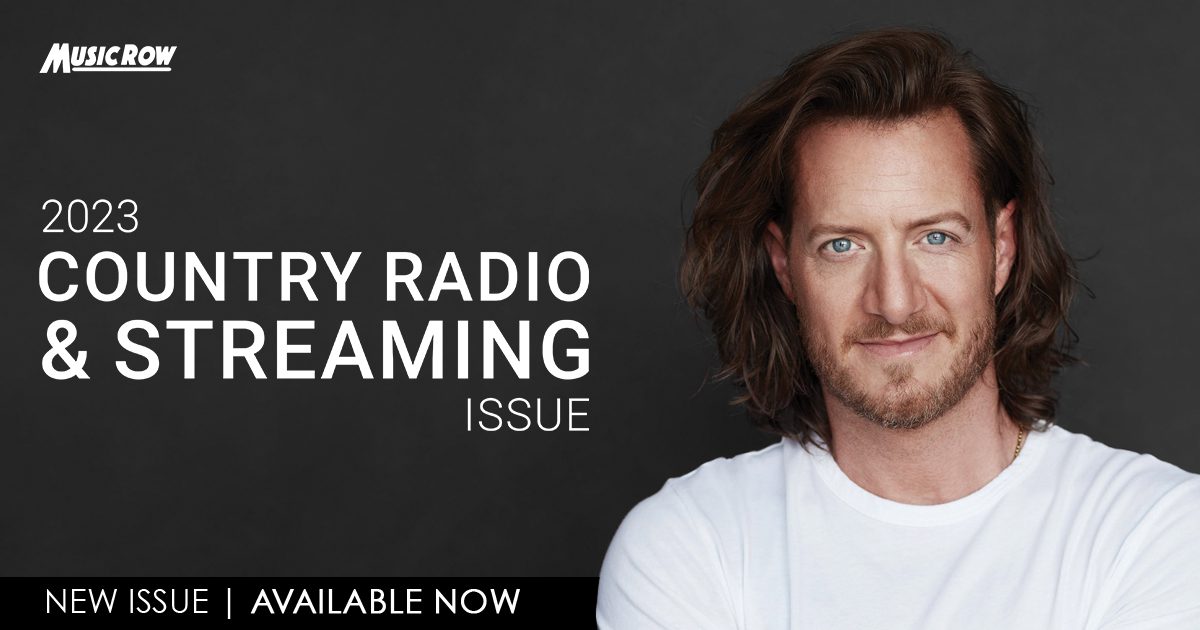 MusicRow Magazine has released its 2023 Country Radio & Streaming Issue, with EMI Records/Universal Music Group Nashville's Tyler Hubbard gracing its cover.
Hubbard's face and name are familiar—and his voice is a staple on country radio. With 20 No. 1 singles including his debut solo single, countless awards and sold-out tours, Hubbard has already had a remarkable career as a performer and songwriter as one half of multi-Platinum duo Florida Georgia Line. This January, Hubbard released his debut solo album, Tyler Hubbard.
Inside the Country Radio & Streaming Issue, readers will find profiles of the 2023 CountryBreakout Award winners, which were also revealed.
Single copies of MusicRow's 2023 Country Radio & Streaming Issue are available for purchase at musicrow.com for $20, and are included with yearly MusicRow subscriptions.
Neon Union Inks Pub Deal With Warner Chappell Music & JAB Entertainment
Neon Union's Leo Brooks and Andrew Millsaps have signed a global publishing deal with Warner Chappell Music and JAB Entertainment.
Neon Union is managed by Jimmie Allen and business partner Aaron Benward as JAB Entertainment's inaugural act. Brooks grew up in Miami and has collaborated with artists such as Pitbull, Lauryn Hill, Jennifer Lopez, Mary J. Blige, Cee Lo Green and John Legend. Millsaps grew up in North Carolina and has been writing songs since the age of 13. When Allen heard the two perform separately, he was convinced they would make the perfect duo and introduced the two.
Together as Neon Union, Brooks and Millsaps are bringing a new sound to country with 808 kick drums married to a traditional lyric and anthemic pop melodies. Their debut single, "Bout Damn Time," on Red Street Records, is out at country radio now. More new more music is slated to come from the pair later this year.
Relative Music Group & Sony Music Publishing Partner To Sign Smith Ahnquist
Relative Music Group has signed songwriter Smith Ahnquist in partnership with Sony Music Publishing.
With a focus on publishing and artist development, Relative Music Group represents an array of songwriters, including Michael Hardy who is also a partner in the company.
Originally from Danville, Kentucky, Ahnquist moved to Nashville in 2006 and earned a degree in music business from Belmont University. He has since garnered cuts with artists such as Brad Paisley, Florida Georgia Line, Hardy, Jameson Rogers, Justin Moore, Lainey Wilson and Matt Stell.
"I've always thought Smith was a great writer, and an even greater person. His attitude and presence in the room is so positive and contagious. I've been writing with him for years and have truly written some of my favorite songs with him. We have big plans for Smith and can't wait to see the run he's going to have in the future!," shares Hardy.
"I'm so excited to be partnering with Relative Music. I've always admired their ability to make sure songs get heard. I'm looking forward to joining their close knit team," says Ahnquist.
Category: Music News