Sony/ATV Nashville Signs Publishing Deal With Filmore
Rising artist Filmore has inked a global publishing deal with Sony/ATV Music Publishing Nashville. Filmore's songs, including "Love That About You," "Blue Skies," and "Other Girl," have earned 21 million on-demand streams to date. He's also toured with Lauren Alaina, Sam Hunt, Russell Dickerson and more.
He will release his debut album, State I'm In, on Sept. 25. The 18-track album was produced by Zach Abend. Missouri native Filmore moved to Nashville after graduating college in 2011 and later released several EPs including 2016's Proof. "Slower" proved to be his breakthrough song, earning more than 26 million streams. To date, he's earned more than 146 million on-demand streams and made media appearances on The Bobby Bones Show and NBC's TODAY.
"Filmore is the definition of a true hustler—his drive, passion and love for music continues to inspire me daily," said Dane Schmidt, Director of Creative at Sony/ATV Nashville. "We're thrilled to welcome Filmore and his team to Sony/ATV, and we look forward to achieving great success together."
Filmore said, "I'm beyond excited to be a part of the Sony/ATV family. Telling my story through songwriting has helped build my career, and for Sony/ATV to put their support and belief in me is such an incredible honor. I can't wait to see what we all do together!"
Brock Berryhill Extends Deal With Warner Chappell Music Nashville
Hit songwriter/producer Brock Berryhill has extended his global publishing agreement with Warner Chappell Music Nashville.
Berryhill has earned three No. 1 singles, including "Good As You" and "Homesick," both recorded by Kane Brown, as well as "What Happens In A Small Town," recorded by Brantley Gilbert and Lindsay Ell. Berryhill also co-wrote Kenny Chesney's hit "Happy Does" and Gilbert's single "Hard Days," which are both currently climbing Billboard's Country Airplay chart. The BMI-aligned songwriter has also earned cuts for Jason Aldean, Chris Janson, Dustin Lynch, Jon Langston and more.
"Since moving to Nashville just a few short years ago Brock's been making his mark on Music City in a big way with his talent supported by his inspiring work ethic," said Ben Vaughn, President & CEO Warner Chappell Music Nashville. "He is respected and beloved by everyone who crosses paths with him. We're excited to extend our partnership with him as he reaches new heights in his career."
UMPG Nashville Signs Global Publishing Deal With Ian Munsick (Exclusive)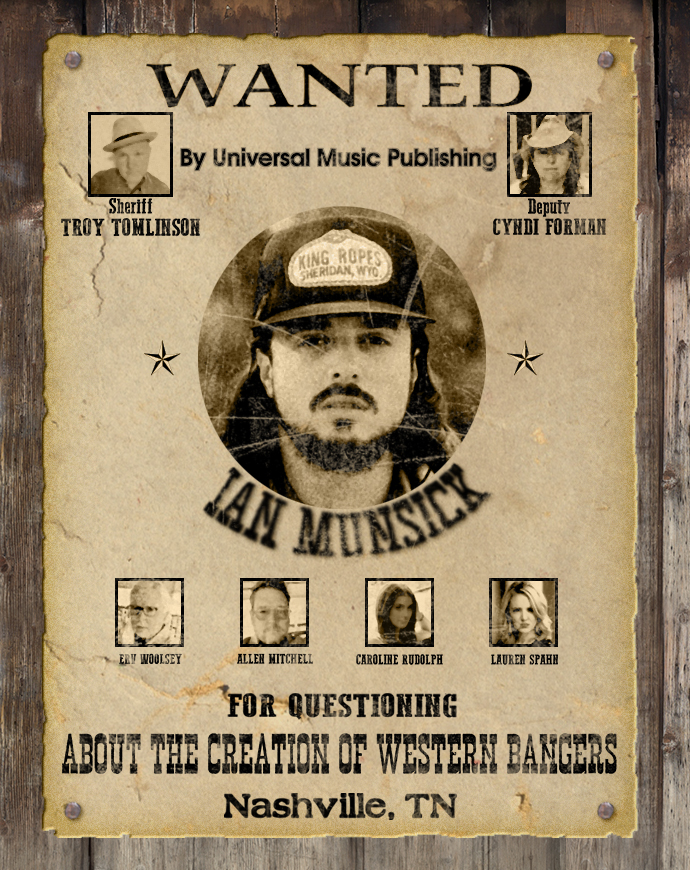 Universal Music Publishing Group has signed Ian Munsick to a global publishing deal. Munsick earned more than 20 million streams and more than 200,000 monthly listeners as an independent artist and recently signed with Warner Music Nashville. He is managed by The Erv Woolsey Company/Not a Public Figure Management. HIs first single, "Long Haul," released earlier this month.
Cyndi Forman, Senior Vice President A&R, UMPG Nashville, said, "Ian brings such authenticity to his songwriting and artistry. His energy and positivity shines through his music and his work ethic. I can't wait for people to get to know him. Our entire UMPG family is looking forward to working with him and his incredible team."
Munsick added, "Working with publishers that have as much respect for Country music as Cyndi and Troy Tomlinson is a dream come true. Cyndi is such a champion for young artists like me who want to broaden the spectrum of Country music yet keep it rooted in lyrical integrity. Her ability to balance both the progressive and traditional ranges of the genre is why I'm confident I have the best damn publisher in town."
Reservoir Inks Deal With Sorted Noise
Reservoir has inked a deal with synch-focused music company Sorted Noise to acquire their catalog of masters and publishing copyrights. As part of the deal, Sorted Noise will run synch-focused songwriting bootcamps featuring Reservoir songwriters, as well as camps dedicated to creating fresh covers of classic Reservoir catalog copyrights. Copyrights for classic songs including "Jungle Boogie," "(Your Love Keeps Lifting Me) Higher & Higher," and "Oh, Pretty Woman," have already been covered, while Reservoir songwriters Jim Beanz, Beatchild, BEXAR, Tristan Bushman, Noby Sidez, and French Braids have participated in Sorted Noise-led camps, including the last in-person camp held in February before the company moved to virtual to accommodate safe social distancing practices. Though based in Nashville, Sorted Noise and Reservoir plan to expand camps to London and Copenhagen, among other locations, in the coming year.
Mississippi natives Josh Collum, Jason Collum, and Perrin Lamb founded Sorted Noise in 2008. The company's bootcamps in Nashville earned a more than 70% success rate for placing music written by their community of over 50 artists, producers, and musicians in a variety of film, TV, and ad campaigns, including TV shows such as Breaking Bad, Mad Men, This Is Us, Big Bang Theory, Grey's Anatomy, Glee, American Horror Story, and in ads for brands such as Chase, IKEA, DKNY, HBO, and Nutella, among others.
Sorted Noise partnered with the music team behind NBC's hit series This Is Us to craft the song "We Can Always Come Back To This," which peaked at No. 29 on the Billboard Rock Charts and went on to earn a nomination for Best Original Song in TV at the Guild of Music Supervisors Awards.
"Sorted Noise's creative approach to the synch market and incredible track record speaks for itself. Their innovation in this space is exactly the kind of forward-thinking approach that we look for in a partner and we're proud to be bringing this value-add to our songwriters and catalog," said Rell Lafargue, Reservoir President and COO.
Scott Cresto, Reservoir's EVP of Synch and Marketing, who previously worked with Sorted Noise in his capacity as President of synch agency Music Alternatives, added, "We had great success with the Sorted Noise crew at Music Alternatives the past several years. We're looking forward to continuing and expanding upon that success now that they have been brought into the Reservoir fold."
"Synch camps themselves aren't unique, but what is unique, is a company like Reservoir bringing a team on board to exclusively focus on their roster and catalog," said Sorted Noise Co-Founder and Partner Josh Collum. "It allows us to truly get to know their artists, writers, producers, and songs, and this better understanding ultimately leads to better art. It's strategic and forward-thinking, and we're excited to be a part of it."
Nate Kenyon Signs With Anthem Music Publishing
Nate Kenyon has signed an exclusive worldwide publishing deal with Anthem Music Publishing.
A native of Southeast Georgia, Kenyon was raised on a variety of different genres and artists, which influenced his unique writing style and voice. Along with his songwriting, he is also pursuing an artist career as well, and has shared stages with Luke Combs, Jon Pardi, Tyler Farr and Justin Moore, to name a few. Raking in upwards of 50 million YouTube views over the past two years, he has begun building a dedicated fanbase.
"From the first song we heard of Nate's, we knew he was a special writer," said Tim Wipperman, President of Anthem Music Publishing Nashville. "His wordsmithing is visceral and paints vivid pictures in your mind's eye. You'll be hearing a lot from Nate in the near future!"
"Not only do I get to say I'm lucky enough to have a publishing deal in Nashville, but I also get to say I have one with a family like Anthem that I know has my back," Kenyon said.
Anthem Music Publishing is a division of Anthem Entertainment, with offices in Nashville, Toronto and Los Angeles.
Category: Music News