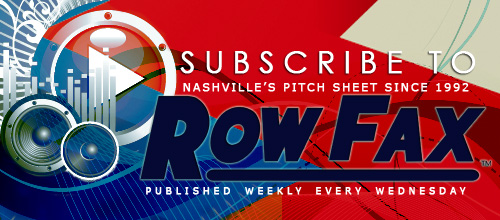 Nashville's Pitch Sheet Since 1992 Subscribers Receive:
• Complete Access to RowFax.com plus email reminders when issues are released (48 per year)
• Free Online Contact Directory Access
• Comprehensive Major and Indie Label Listings
• Listings With Contact Information*
• News and Photos In Each Issue
• Prompt Customer Service

Click "Learn More" on the RowFax homepage to view a Sample Issue, Frequently Asked Question page and more details. RowFax provides up to date information about which artists are working on recording projects and currently searching for new material. It is for professional use by publishers, songwriters, producers, artists, A&R executives and others interested in the process of finding and recording songs. The publication's role is solely to provide song marketplace information—it never gets involved in the process of pitching, reviewing, listening to or owning songs. Each entry contains artist, label, producer, recording schedule, project description and contact details when available*.
For more information about the MusicRow subscription, please visit www.musicrow.com.
*Contact information is not always given. It is up to the subscriber to use their own resources and contacts to submit material. Song pitching access is not guaranteed.

Category: Subscribe